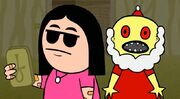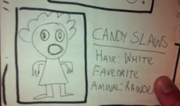 Candy Slaws is a character from
Ed Atlin's
comic book tutorial video and Pyramids. She is a part of "Fireball Police Investigations" (FPI), and is
Tutu
's partner. Her catchphrase is "OH OH OH". She has only appeared in three videos and appears to be
Santy Claus
with slight name alterations.
Candy Slaws has changed into Santy Claus and has similar traits as him, as well as going so far as to kill Tutu at the end of Comic Book Tutorial.
She grew up in an orphanage with Tutu as her best friend. She has superpowers granted to her from unlocking the secret orphan crystals from the orphanage. She is also known for saying "Gee, thanks Obama!". She is said to dye her hair red, with blood.
Appearances
Edit
Below is a list of all of Ed Atlin's videos Candy Slaws has appeared in:

Ad blocker interference detected!
Wikia is a free-to-use site that makes money from advertising. We have a modified experience for viewers using ad blockers

Wikia is not accessible if you've made further modifications. Remove the custom ad blocker rule(s) and the page will load as expected.