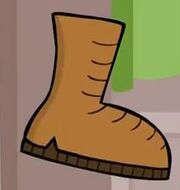 Shoey the Fucking Shoe is a talking shoe that appears in most episodes of "Where's My Shoe?". He uses vulgarity in almost every last sentence he says.
In "Where's my Shoe" issue 11, Shoey the Fucking shoe is worn on the foot by Julius, confirming he can be worn.
Appearances
Edit
homework is fun (Newgrounds)
Talking Shoe
A Hole to China
Shoe Powers
Fingering
Ad blocker interference detected!
Wikia is a free-to-use site that makes money from advertising. We have a modified experience for viewers using ad blockers

Wikia is not accessible if you've made further modifications. Remove the custom ad blocker rule(s) and the page will load as expected.