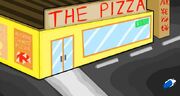 "The Pizza" is a restaurant that may or may not be owned by
Charlie the Chinese
. It could be what place
Charlie
was referring to in "A Hole to China" when he was talking about his secret pizza party. There are Chinese characters on the side of the building, and a sign claiming to sell authentic Chinese Pizza.
They sell only pizza, from pizza to pizza balls, even going as far as beverages made with pizza.
Appearances
Edit
Ad blocker interference detected!
Wikia is a free-to-use site that makes money from advertising. We have a modified experience for viewers using ad blockers

Wikia is not accessible if you've made further modifications. Remove the custom ad blocker rule(s) and the page will load as expected.