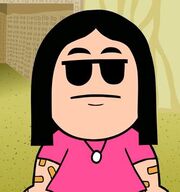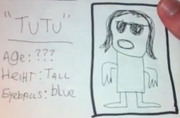 Tutu is a fictional character in both the FPI series (Fireball Police Investigations) and Operation Moonface. Tutu is based off of Ed Atlin's Tutorial Guy persona. He is one of the main characters in FPI, alongside Candy Slaws. On Ed's blog he has stated that both Tutu and Candy Slaws are ageless, although the version of Tutu in Operation Moonface is in his mid-twenties.
Appearances
Edit
Below is a list of all of Ed Atlin's videos Tutu has appeared in:
Ad blocker interference detected!
Wikia is a free-to-use site that makes money from advertising. We have a modified experience for viewers using ad blockers

Wikia is not accessible if you've made further modifications. Remove the custom ad blocker rule(s) and the page will load as expected.