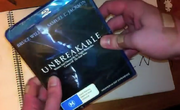 Unbreakable is a 2000 American superhero thriller film written, produced, and directed by M. Night Shyamalan. The film stars Bruce Willis and Samuel L. Jackson. The DVD appears in multiple Tutorial videos. Ed breaks the disc several times, disproving the theory that Unbreakable is truly unbreakable.
Ad blocker interference detected!
Wikia is a free-to-use site that makes money from advertising. We have a modified experience for viewers using ad blockers

Wikia is not accessible if you've made further modifications. Remove the custom ad blocker rule(s) and the page will load as expected.